How to use the Soroban?
VALUE OF BEADS

Upper beads are also called HEAVEN BEADS. Heaven beads are worth 5 units.
Lower beads are also called EARTH BEADS. Earth beads are worth 1 unit each.
When beads touch the beam then they become valuable and you read them.
If beads are away from the beam then you do not read them.
PLACE VALUE OF THE RODS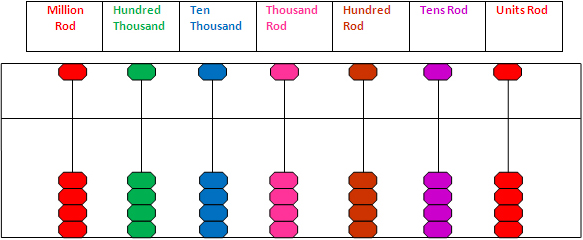 This is How 1 Digit Numbers Will Look on Abacus
Unit Place Rod: All single digit numbers go on unit rod.

This is how 2 Digit Numbers will look on Abacus
All 2 digit numbers go on tens and units rod.
Example:
Step 1: Set
12 on appropriate rods
Step 2:
Add 82 on top of 12 –
abacus will look like
Step 3:
Add 5 – abacus will look like
Step 4:
Subtract 71 – abacus will look like
Do these on your abacus and find the answers
1
2
3
4
5
15
12
11
51
44
- 01
55
-71
74
- 12
25
- 15
73
-02
25
-86
97
-67
58
-66

© 2009 by SAI Speed Math Academy